I'm blessed to have a bunch of wonderfully inspiring girlfriends who have been my ultimate travel buddies for years.
For a good while there we'd pack up every year, say goodbye to the partners in our lives and trot off to some far-flung place for a week or five. It was our way of staying connected despite the distance that came with living in cities scattered across Australia.
Sadly, the trips are now becoming few and far between as many of us start settling down and doing incredibly adult things like buying houses, which really eats into the travel budget.
Luckily, we went through a phase of keeping a group journal, a communal place to document the funniest stories of our day. I have to be honest; the journal was a real pain in the butt to keep up with while travelling. I think we all went through stages where we wanted to throw the damn thing in the bin, especially when we got so far behind with writing that it felt like we'd never catch back up again.
But now I'm so glad we have this fabulous memento of our time together, a little window through which we can peep back at the girls we once were, the amazing experiences we shared and the precarious (read: hysterical) situations we got ourselves into.
I've always been the keeper of these communal journals, some of which date back to 2009, and it was high time to share them with the group.
But first I needed to create covers as personal and thoughtful as the words they would house. So, after much experimentation, I came up with covers made of card stock and fabric that I bought in Bali during our most recent group sojourn. And now I'm going to share them with you.
What you need:
1 piece of A3 card stock
White paper for the journal pages, if you're creating a blank journal
1 piece of material, 35cm by 25cm
Can of colourless spray adhesive – I used Arbee
Long-reach hole punch – I used a McGill punch
Pack of 5mm metal eyelets
1m of ribbon, roughly 5mm wide
Pinking shears
Iron
Rubber mallet or other hammering instrument – I used an old can of shoe polish!
Sewing machine
How you do it:
Cut the card stock into a 32cm by 22cm rectangle. Iron the material to ensure it's completely free of creases then trim the edges with pinking shears, which gives it a lovely decorative zigzag look but also helps prevent fraying.
Leave the material sitting wrong-side up, then take the card outside and give it a thorough spray with the adhesive. Carefully place the card sticky-side down on the fabric, getting it as centred as possible. Trim the edges with pinking shears again if things got a little crooked.
Fold the material corners over onto the card and iron them in place. I gave mine a little spray with adhesive, which helped keep things in place when it came time to sew. Fold in the fabric on the short and long sides of the card, ironing as you go.
Sewing time! Start in a corner that will be at the back of the journal and run all the way around the edges of the cover. If you leave the needle down at each corner then lift the presser foot and swing the material to the new direction, you'll end up with sharp 90-degree corners. Tie the threads off neatly.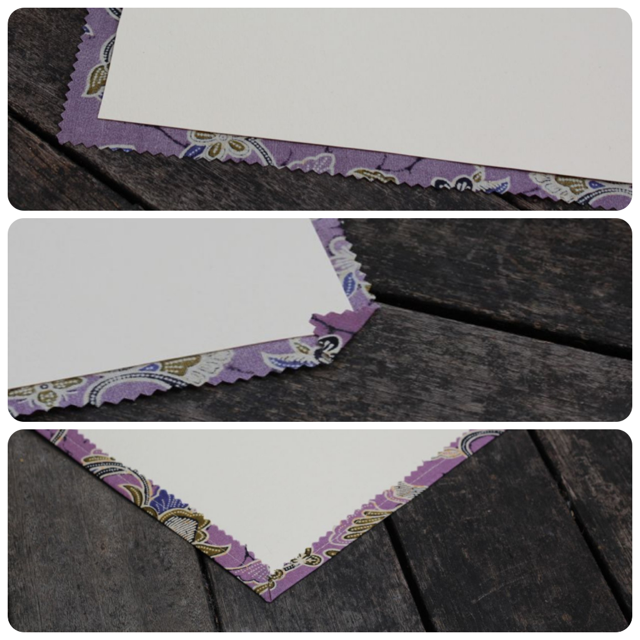 If you're creating a blank journal, grab some white paper and punch three holes in the centre of each piece, a uniform distance apart. Mark the centre of your cover with a pencil line and then measure and mark three holes that will align with your paper.
Use small scissors to gently punch small holes at the markings, then flip over the cover and slowly tease the hole a little bigger until you can push one of the longer metal eyelets through. It should fit snuggly. Use the little tools that come in the eyelet pack to hammer the smaller eyelet together with its partner.
Fold the journal pages and cover in half. Then all that's left to do is thread the ribbon. It's almost impossible for me explain this coherently so I've made a little GIF that will hopefully show you what's needed.
I ended up making 11 separate covers, which was a pretty huge effort but thankfully I had allowed myself literally months to finish the project. It was like the communal journal came back to annoy me one last time!
I wrapped up all the finished journals and handed them out to the girls as a Christmas surprise, complete with little handmade gift cards. And my beautiful Mum scored a blank journal as a little homemade extra for her 60th birthday.